Simple. Reliable.
Fully managed shared cloud for your websites, blogs, apps
Be Cloud Ready
At goclouds, we believe cloud hosting should be simple and easy enough
for everyone.Our shared cloud is a hybrid of shared hosting on a cloud infrastructure.
This provides high availaiblity, increased realibility and security than any
normal shared hosting spaces. We offer shared environment on a enterprise
class clustered private cloud infrastructure making your business cloud ready.
Isolated yet shared
Goclouds provides you with fully managed cloud. Each website
will be placed on an individual lightweight virtualized environment and
given a predetermined amount of resources. So your website remains
stable even when your neighbouring sites face a sudden spike in traffic.
we takecare of your website, so you can focus on your business!
High performance linux
Our linux clouds are powered by ngnix stack with memcached for
better performance, faster than normal apache servers. Goclouds has a
linux shared cloud. We love wordpress and offer one click installer
for wordpress for easy installation. we also provide the same for joomla,
drupal, dotnetnuke. you can be up and running in minutes.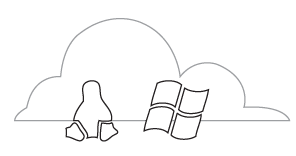 Award winning control panel
Goclouds uses award winning control panels cpanel for linux. These control panels are time tested in
real world hosting scenarios and proven realiable for
years with utmost simplicity. There is almost no learning
curve to use these panel
Features
Why Us?
We offer fully managed support for Linux
Hardware + Network + Software
Immediate Response to Emergency support
Friendly, personalised hosting support
We take care of everything from DNS, Account setup and troubleshooting
Best Effort support for 3rd party plugins and CMS installation
Package Details
Shared hosting plans for both linux
Cloud Redudancy for linux servers
RAID Protected Storages for increased I/O Performance
No hidden or Setup fee
Backed by a Generous SLA
Customised plans available based on request
Datacenter
Redundant, Best in class infrastructure
High powered, Tire 1 Premium network
Parallel multi-tired architecture
Conditioned power providing Uninterrupted power supply
Secured by Keycards, Constant Survelliance
Highly redundant, enterprise class routing systems